Ahrefs – How to Use Content Explorer
Start by entering any keyword or phrase to search our database of over one billion webpages. Choose how queries are matched using the dropdown options.
Get a high-level view of the topic's popularity with the pages over time graph.
See key SEO and social metrics for every web page.
Mix and match filters to refine the results.

That's the basics covered. Now let's look at some actionable use cases.
See a brand's popularity over time
Enter any brand name and exclude results from the official site to see its popularity over time.
For example, if you search for mentions of "Ahrefs" and exclude results from ahrefs.com, you'll see that our brand mentions are steadily increasing.
You can do this for competitors too.
If you search for mentions of "Nike," for example, you'll see that there was a spike in mentions in March 2019.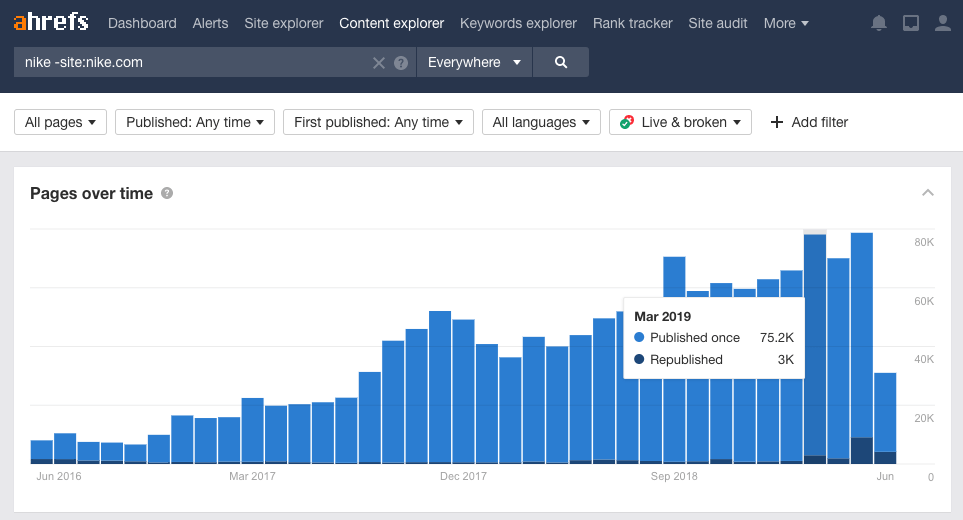 By setting a date range filter for this period and analyzing the results, you'll see that this was due to some publicity around a lawyer trying to extort millions of dollars from Nike.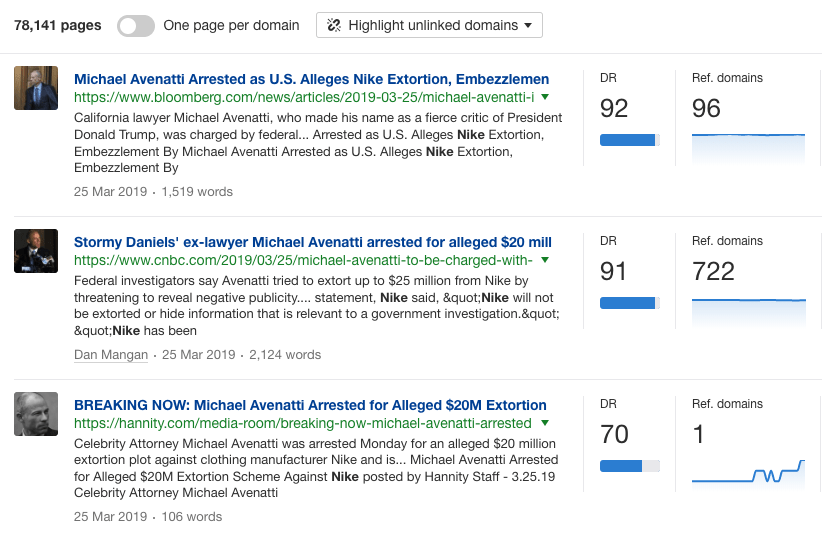 Analyzing competitors' "popularity spikes" is a great way to reverse-engineer their PR and link building campaigns. From there, you can learn what's working for them, and try it for yourself.
Reverse-engineer competitors' content marketing strategies
Run a site: search for a competing domain to see their post frequency over time.
If you do this for ahrefs.com, you'll see that we publish or update 8–10 posts per month on average. You can also see that our content strategy revolves heavily around keeping content up to date.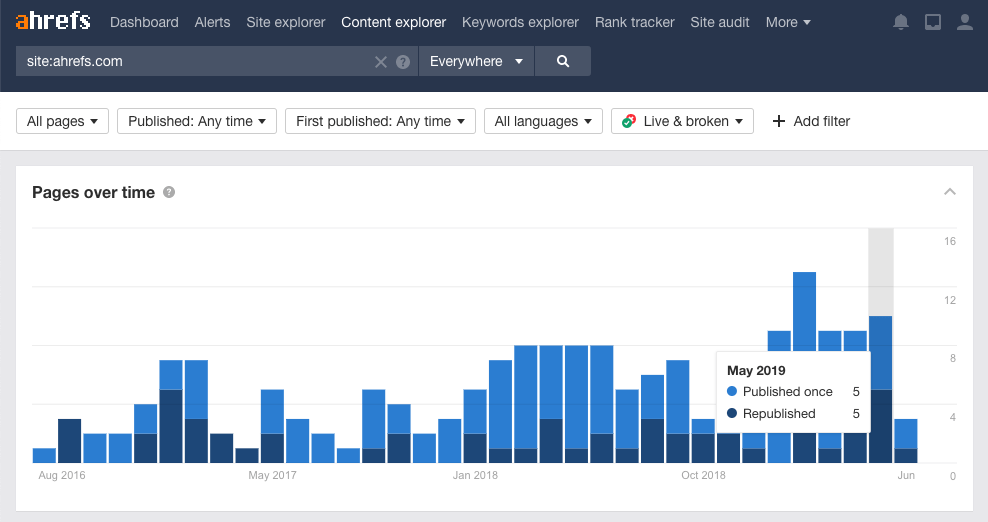 To see the republished pages, filter for republished pages only.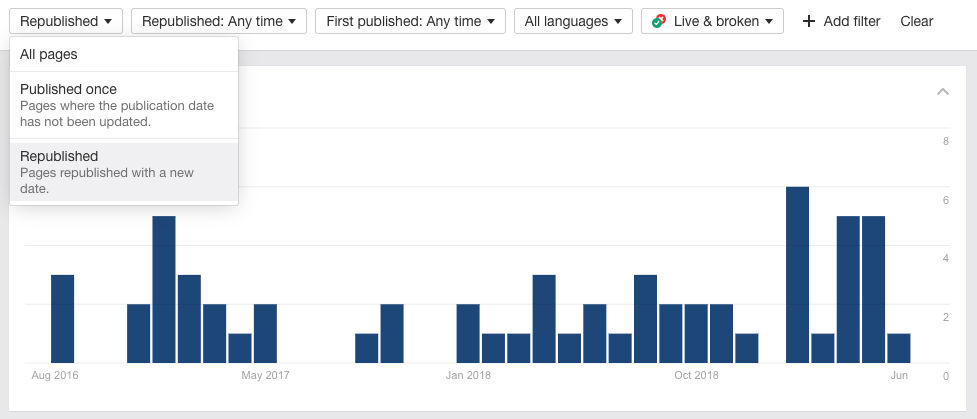 For each result, you can see both the republished and the first published date.

Find broken link building opportunities by topic
Search for any topic, filter for only broken pages, then use the referring domains filter to exclude pages with few or no referring domains.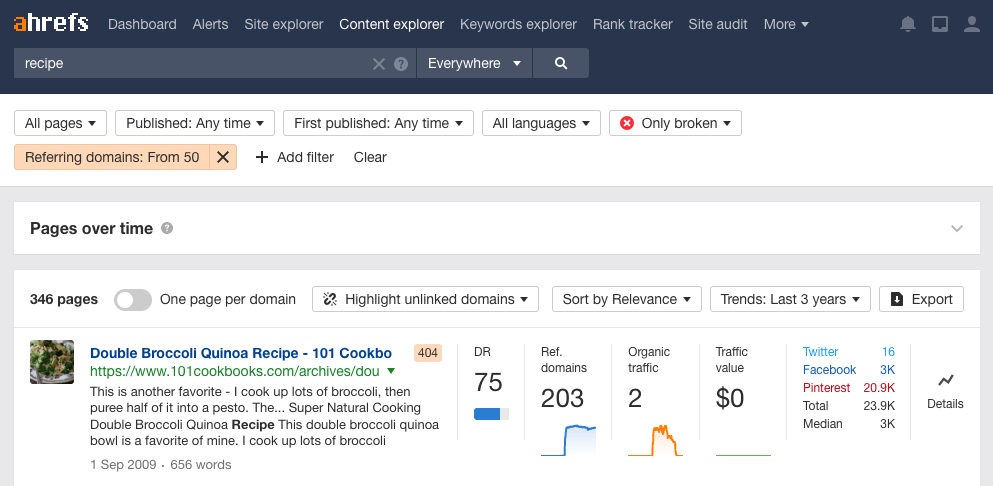 You now have a list of dead pages about your chosen topic with plenty of backlinks.
These are all potential broken link building opportunities.
Get a sense of the "quality" of backlinks to each page by setting the "trends" filter to the past three years and eyeballing the results for pages that once had organic traffic. This often indicates that the page's backlinks were once helping it to rank.

Hit the caret on any promising opportunity and hit "Backlinks" to see all of its backlinks in Site Explorer.
Find outdated content for link building opportunities
Search for any topic, then filter to show only pages that were published a long time ago.
For example, if you search for pages about the best routers, and filter only for pages published more than three years ago, you get 46 results. Many of these pages are outdated lists of the best Wi-Fi routers because technology moves fast.
Next, set a referring domains filter to exclude pages with few or no backlinks. Then set the "trends" graphs to show data from the last three years.
Look for pages that used to have decent organic traffic, which is fading over time.

These pages are often good contenders for a "Skyscraper" link building campaign. Just create a more up-to-date version of the content, then ask anyone linking to the outdated version to link to you instead.
Find low-hanging content opportunities
Search for a topic, then filter for pages with few or no referring domains that also get a good amount of monthly organic traffic.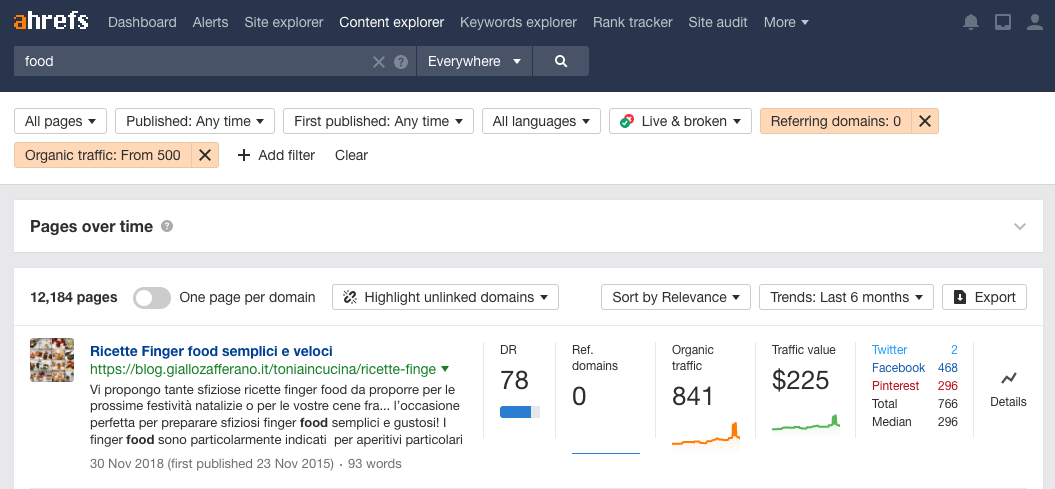 Eyeball the results for relevant pages with sustained or growing traffic over time.

Such pages often revolve around uncompetitive topics with search traffic potential that you can rank for with few or no backlinks (i.e., low-hanging content opportunities).
You can see which keywords each page ranks for on the "Organic keywords" tab under the "Details" menu.

Find untapped guest blogging opportunities
Search for a broad topic, then toggle the "one article per domain" switch to see only one result from each site.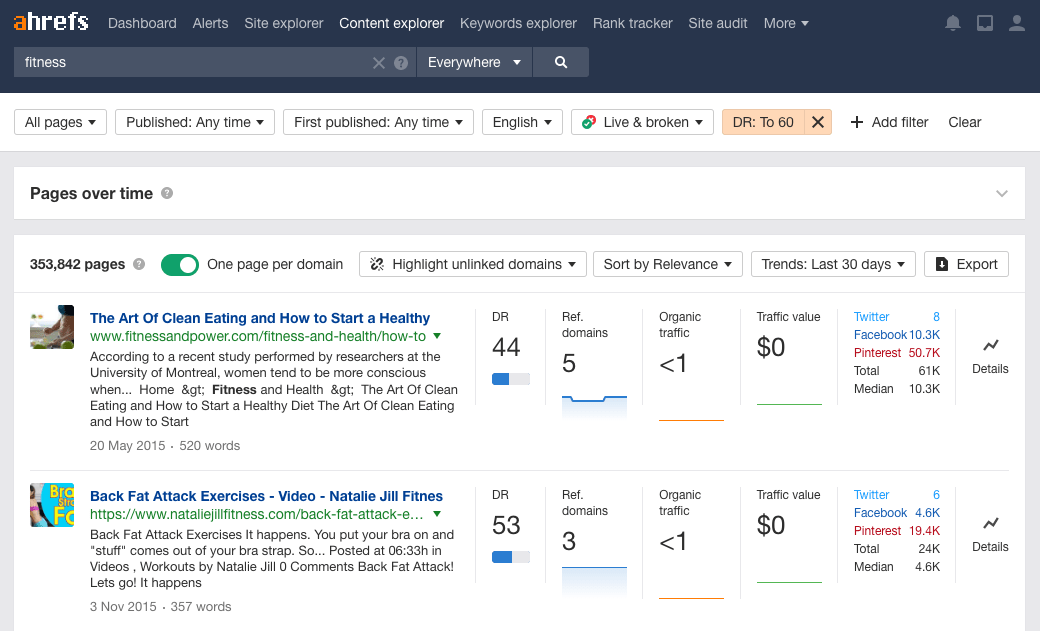 Note: The reason we're restricting results to one per website is that we don't need to pitch the same website numerous times.
Add a Domain Rating (DR) filter to weed out small and large sites (e.g., DR30 — DR70).
You now have a list of websites that you know have covered this topic before, and might be open to accepting a guest post on a similar topic.
Find unlinked mentions
Search for your brand name and exclude results from your site. Toggle the "one article per domain" switch.
Hit the "highlight unlinked domains" button. Enter your domain.
The websites that have never linked to you before will be highlighted, which means that the brand mentions on those pages are unlinked.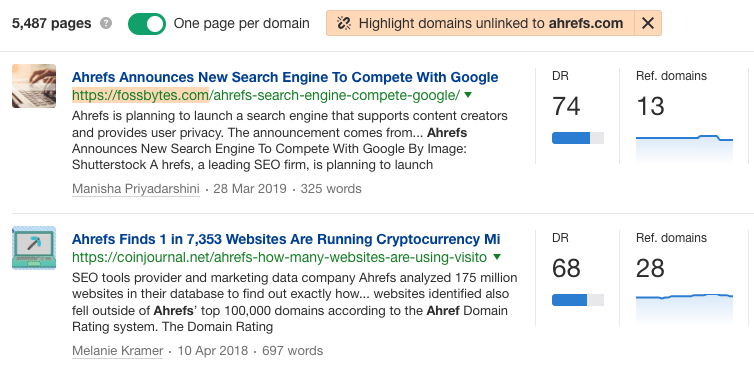 Reach out to any relevant sites and ask if they could make the mention clickable.
Hit the "Export" button and toggle the "Only pages with unlinked mentions" box to export all unlinked mentions.
Learn more actionable ways to use Content Explorer
Check out the video below to learn how to use the inurl: search operator to get even more out of Content Explorer.
Or read this guide to learn about the other search operators you can use.